About
The World Needs Moore.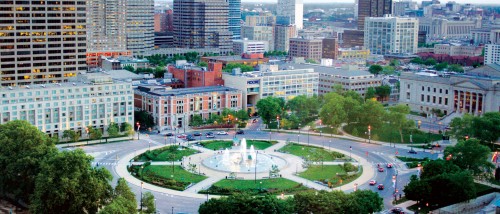 Picture this: It's 1848. The Industrial Revolution has spawned new industries, and Philadelphia is one of the biggest centers of it all. What can you do to capitalize on a pivotal moment in time? For Sarah Worthington Peter, that answer was to create the first and only visual arts college that would empower women to achieve financial independence through a high-quality, career-focused education.
Now, over 170 years later, Moore College of Art & Design remains the first and only historically visual arts college for women in the nation—an inclusive and innovative home to nine prestigious BFA programs and so much more. Our mission is more relevant than ever, as technology, sustainability and diverse cultures drive and disrupt new and existing industries. Through dynamic BFA and Graduate Studies programs, educational programs for creatively curious youth and professional adult learners, and our own public and dedicated space for contemporary art—The Galleries at Moore—we are influencers and advocates for breakthrough artists and designers of all ages and backgrounds.


mission & values
Adopted by Moore's Boards of Trustees and Managers, September 22, 2020
OUR MISSION
Moore College of Art & Design is a historically all-women's undergraduate college that has evolved to include co-educational continuing education and graduate studies. We educate artists and designers to build creative, enterprising careers of significant impact.
We are a forum for big ideas, and a champion for creative expression as a means to connect local and global communities.
OUR VALUES
We believe:​
Our founding mission of empowering women by developing their artistic ability, leadership capacity and marketable skills remains relevant.​
Affordable access to higher education is the doorway to a successful art and design career that creates better futures for our students and their communities.​
Moore's founding principles of inclusivity and opportunity are evident in our policy to admit nonbinary and trans students.​
Diversity can only be a strength; mutual respect and civility are expected among all Moore stakeholders. We do not tolerate racism or bias in any form.​
Art and design are disciplines requiring development through rigorous learning and teaching. Our commitment to continuous improvement strengthens all we do and teach.​
Imbuing gifted artists and designers with leadership skills will enable them to have an impact on the arts and business communities.​
Artists and designers are essential citizens, deeply engaged with and committed to the necessity and urgency of innovation. Artists show us beauty, hold up a mirror to ourselves, and function as the conscience and chronicler of our civilization.​
College should be rich with experiences; learning takes place in all interactions at Moore, and the sustained impact of a student's time at Moore is crafted by the entire community. We must do all we can to assure the health, safety and well-being of our campus community.​
All faculty and staff have a responsibility to model exemplary professional behavior to the students in the classroom, the studio, and in the hallways, offices and digital platforms of the college—on the campus footprint and beyond.​
Graduates of Moore should be proud to call the college their alma mater. We value them as members of our community and connect them with career development, networking and opportunities to collaborate with each other and the next generation of emerging artists. We encourage them to give back to the college.
THE WORLD NEEDS MOORE
When we say, "The World Needs Moore," we speak to our history. We are an institution founded not out of some flight of fancy but because there was—and still is—a segment of the population not being served by existing academic institutions. Moore College of Art & Design exists to serve their needs.
Additionally, our tagline speaks to the value of our programs and the potential of our graduates. We produce artists, designers, leaders and entrepreneurs that the market not only wants but also needs. These are the voices the world needs to push creative professions to the next level.
Watch this video to learn about the behind-the-scenes process and meaning behind our new logo and tagline, developed in partnership with CCA (Creative Communications Associates) and featuring Utile, a typeface designed by Sibylle Hagmann for her type foundry, Kontour.
OUR ADMISSIONS POLICY
Founded in 1848 under the mission to expand women's access to higher education, Moore College of Art & Design offers a women's college experience. Undergraduate admission is open to otherwise qualified applicants: (i) assigned female at birth; or (ii) who self-identify as women, trans women, nonbinary, or gender nonconforming individuals, at the time of application. This policy will apply to applicants to be considered for enrollment for the 2021–22 academic year and beyond.
—Adopted by Moore's Board of Trustees & Managers, May 5, 2020